What are Hair Extensions?
The hair industry is a multi-billion-dollar market. Hair extensions have been becoming more popular ever since the 80's. If hair extensions are not installed properly, they can cause damage to the hair as well as hair loss. A proper hair extension training course is necessary to educate and train a professional hair extension technician.  Sign up for our Hair extension course for an introduction to hair extensions, natural hair, health and safety and hair conditions. Hair Extensions are a blend of natural human hair and synthetic hair. They are used to give a hair style more length, color and volume. They can be installed with fusion glue bonds, micro links, sewn, taped, braided or clipped. Most of the natural hair comes from India and China. However, hair extensions can also com from Europe and North America. As the industry continues to grow, companies are coming up with other ways to make extensions. Synthetic hair can also be used or added to hair extensions.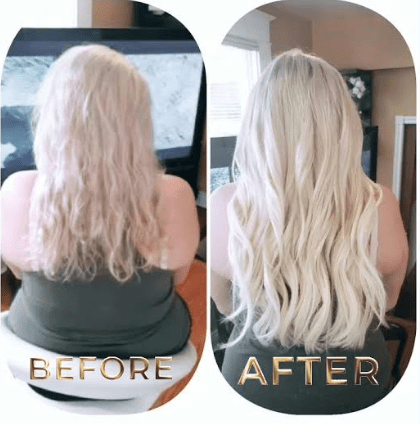 Why Choose NV Beauty Boutique?
Our roots are implanted deep in Niagara Falls. Starting from a computer at home, NV Beauty Boutique exploded into the agency it is today. We pride ourselves on providing professional Niagara Falls beauty services and courses. NV Beauty Boutique is a marketing platform used to connect individual beauty experts to wonderful clients across Canada. NV Beauty Boutique specialists are trained and certified beauty technicians. Our professional staff will assist you and your individual needs and provide you with top beauty care. NV Beauty Boutique is always up to date with the latest beauty trends. We follow Ontario health Standards and our customer satisfaction is our top priority. For any questions or comments, please email us at contactnvbeauty@gmail.com or call us at 289-968-2028
Niagara Falls Hair Extensions & Services
NV Beauty Boutique offers Niagara Falls hair extensions for the following price: fusion $320, tape in $300, Microloop $320 for 100 grams. To book an appointment, email us at contatnvbeauty@gmail.com or text us at 289-968-2028 Learn all about our hair extensions below!
Hair Extension Removal
Aftercare & hair extension removal is important to avoid damaged hair. Speak to your beauty consultant on removal options.
Tape in Extensions
Tape in hair extensions are the least expensive semi-permanent hair extension method available for both the cost of hair and the application. They are the easiest hair extension method to maintain and easiest to maintain. They're light weight and least damaging. Tape in extensions are reusable for up to a year, they are good for 3-4 applications.
Fusion Extensions
Fusion hair extensions are one of the top beauty trends. Fusion extensions provide a natural look and are long-lasting. Also known as the"glue-in" method, the hair extension tip is a square-shaped keratin protein bond which is heated up and melted onto your hair. It is extremely important to have a professional take out the bonds after use to avoid damage to your hair.